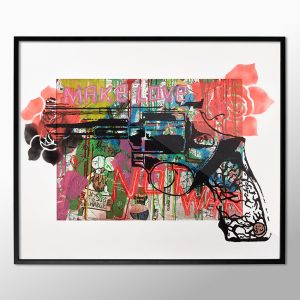 Notice: This artwork is sold, but its possible to get a Limited Art Print of the original: Click here
Original one-of-a-kind painting by Torben Buus.
Mixed media on fiberboard and passepartout.
Acrylic, spraypaint, marker and collage.
All the background collage is one of the original Charlie Hebdo newspapers – published right after the tragedy in Paris 2015.
Signed and supplied with certificate of autenticity.
Including a high quality black wood frame.
Size: 123 x 103 cm / 48,4" x 40,5″ including frame
• Original painting.
• Signed and stamped.
• Certificate of autenticity.